It's nearly impossible to know what any year will hold. There are certain holdovers of course: Maybe a lingering project, or an expected dip into your bank account for a big purchase you need. At the same time, success in the new year can usually be attributed to a mix of hard work, good fortune, and being open to possibilities.
So, as you start to plan out the year ahead, you may want to think more deeply about which areas to plot out down to the letter, and where you can give be a little more spontaneous.
Capricorn
December 22 to January 19
Last year, Jupiter (the planet of luck and good fortune), spent time hanging out in Libra, the sign that covers Capricorn's career zone. Now that Saturn is back home in this sign, Woods says 2018 is all about change — not only in terms of seeking out new opportunities, but also using new methods to get there.
"This year will be about capitalizing on a reputation they've been building since last year. That may mean establishing new contacts, building their network, and getting opportunities through people they know, instead of directly do things themselves," Woods says. "Capricorns tend to like to do things by themselves, but they are going to have to get help from their friends and rely on others in order to get ahead this year."
 Aquarius
January 20 to February 18
Jupiter is also the planet of prosperity, and it is currently hanging out in Aquarians' career zone. "This could be a time for promotions or getting recognition through their work, whether that's media or winning awards," Woods says. "This is a time for Aquarians to really shine for what they do and get noticed for it."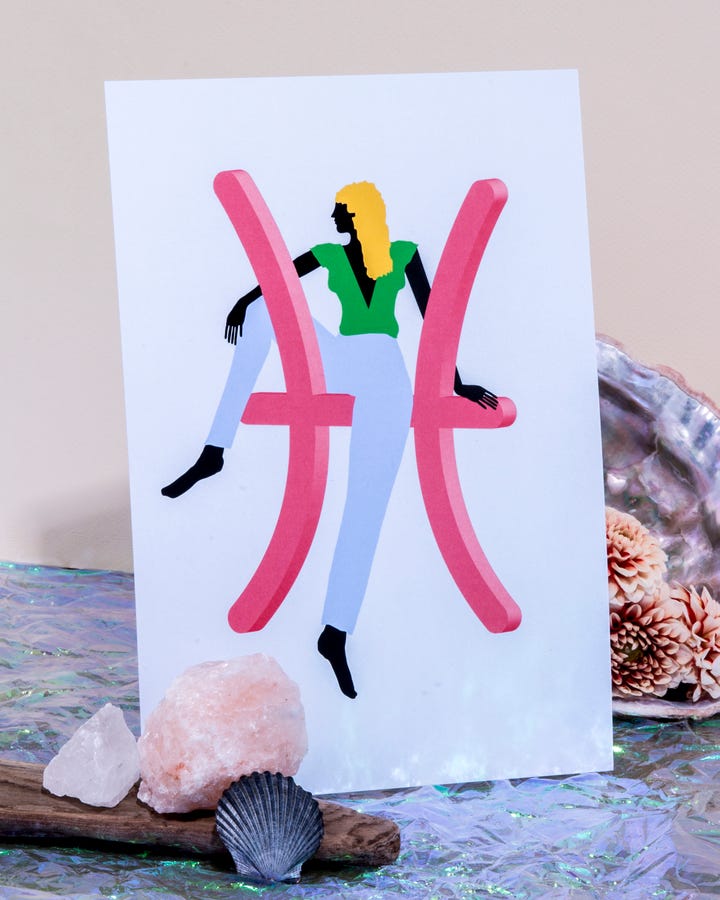 Pisces
February 19 to March 20
Woods says that Uranus is finally finishing its tenure in Pisces' money zone, which would have led to significant fluctuations of their finances. As Uranus moves into their zone of communication (and into Taurus in May), Pisces who have struggled with money could see their cash flow level out over the next few months.
With that shift of focus, "you might see Pisces start to pursue, or become more interested in careers in communication, whether that's advertising, writing, or media. It could also signal some going back to school and learning new skills to make themselves more marketable."
Aries
March 21 to April 19
Aries are known to go big, but with Saturn in Capricorn's career zone, Woods says Aries will also need to be focused.
"Saturn is very much the opposite of Jupiter, in the sense that Jupiter makes things fun and opportunities tend to come quickly," she explains. "Saturn is all about building discipline and maturity, and learning how to deal with responsibility and boundaries. So, when Saturn is in your career zone, you tend to have to work a lot harder for the things you get."
As a result, Aries will be tested in terms of their career. They will need to be clear about their goals and ambitions, but also be willing to commit to finishing the things they start. "Saturn really likes it when we dedicate ourselves to the things we want," Woods adds. "This is a time for Aries to dig in and work hard."
Taurus
April 20 to May 20
Taureans are undergoing a self-reinvention phase that will be exponentially influenced by the planets, Woods says. Some of those shifts will be the result of Uranus spending time in Taurus, and others will be the products of a series of eclipses in 2018.
"Eclipses are game-changers that come along in pairs every six months, and cause us to let go of things we don't need," Woods explains. "Taurus, which tends to be a sign that holds onto things for a really long time, will be pushed out of the nest when it comes to their career, and life in general. Think change in terms of starting fresh, and possibly going in a different direction."
 Gemini
May 21 to June 20
"Gemini are going to be looking for careers that resonate with them more on an emotional level, as opposed to just going through the motions," Woods says. Being in a figuring-things-out phase will make them more contemplative, even if they don't make any big changes just yet.
Neptune, which has to do with creativity and spiritual and emotional fulfillment, is spending time in Pisces, Gemini's career zone. So even though bombast may not be name of the game for Gems, Woods says they will see be still seeking out ways to be express themselves in their careers, especially people who work in art-related fields.
"Additionally, Saturn is hanging out in their financial zone right now. That will also mean restructuring their relationship to money, and being more mindful of the work they do," she adds. "Sometimes Gemini can spread themselves very thin. This year will be asking that they get a little clearer about what they want."
 Cancer
June 21 to July 22
With an eclipse in Cancer over the summer, Cancers are in for a big year.
"Career has been kind of unstable for them over the past couple of years just because of where Uranus has been in their chart," Woods says. "But Uranus is going to leave that zone come May as it moves over Taurus. I think for Cancer, [this year] is going to be about shaking off old energy and going in a very different direction. That could mean seeking out stability, finding their niche, and leaving a lot of that shaky uncertainty or instability behind."
Leo
July 23 to August 22
Leos are in for an exciting year, being blessed with two eclipses — one on January 31st, and another over the summer — as well as motivating change from another planet for several years to come.
"Whenever an eclipse lands in your sign, it's always a turning point," Woods says. "Then, Uranus, the planet of change, is also moving into Leo's career zone, where it's going to stay for the next couple of years." Rather than sticking the same old same, she says Leos will be focused on becoming trailblazers or leaders in the field of their choice.
"Because Uranus is all about independence and doing things differently from everyone else, they may [get the urge] to go off and become an entrepreneur or become self-employed, or they may get promoted." Whatever it is, it will be big.
Virgo
August 23 to September 22
Change-bringing Saturn is doing its work in Virgo's zone of creativity, meaning "Virgos right now are going to be thinking about ways they can take their creative gifts more seriously," Woods says. "Virgos are really good at helping other people, and getting other people's lives together. This year, Virgos are going to be asked to be more focused on their own goals and what they want to do."
Those with creative gifts (perhaps writing or music) who have been keeping those talents close, will hear a loud knock on the door from Saturn, she adds, telling them "it's time to buckle down, actually hone your craft, and share it with the rest of the world."
 Libra
September 23 to October 22
The upcoming summer eclipse in Cancer will happen in Libras' career zone, which make for plenty of exciting work moments. That event — a solar eclipse — signifies new beginnings, Woods says. "That means there's the possibility for a new job, getting a raise, getting a step up the ladder, or getting recognition for something they've been doing."
As a bonus, Jupiter is also chilling in Libra's money zone, doubling up on their year of work and money fortune.
 Scorpio
October 23 to November 21
2018 will be big for Scorpios — who are willing to take (calculated!) risks along the way.
"Jupiter is currently in Scorpio, and whenever Jupiter is in your sign — something that only happens ever 12 years — it brings all the fanfare to your sign. You tend to get a lot of attention, new opportunities, and meet new people," Woods says. "However, Scorpios are going to have to start to get comfortable with change. They [tend to] need to know what's happening at all times, but with Jupiter present, Scorpios will have to be willing to take a few risks in order to get what they want."
 Sagittarius
November 22 to December 21
Saturn is hanging out in Sag's money zone right now, which is a signal for them to be much more mindful about their finances, buckle down, and pay attention to where their money is going.
"Another thing that's happening is that Uranus is moving into their zone of routines and habits," Woods adds. "This year is a big time for Sagittarians to break old habits around work and money, making sure they have better work schedule they can stick to, that they are getting compensated well for the work they do, and aren't just giving their talents away."
Originally created from
here
.
Comments