These little bites are reminiscent of a spicy California roll, but without the rice. They're fresher, easier to make, and actually good for you. Win, win, win.
Miss the rice? Make a sushi bowl instead!
INGREDIENTS
2 medium zucchini
4 oz. cream cheese, softened
1 tsp. sriracha
1 tsp. lime juice
1 c. lump crab meat
1/2 carrot, cut into thin matchsticks
1/2 avocado, diced
1/2 cucumber, cut into thin matchsticks
1 tsp. Toasted sesame seeds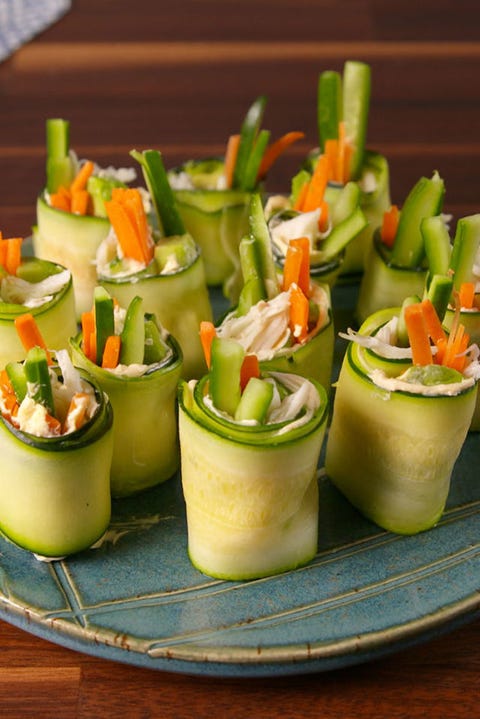 DIRECTIONS
Using a vegetable peeler, slice each zucchini into thin flat strips. Place zucchini on paper towel-lined plate to sit while you prep the rest of your ingredients.
In a medium bowl, combine cream cheese, Sriracha, and lime juice.
On a cutting board, lay zucchini slices down horizontally (so that the long side is facing you). Spread a thin layer of cream cheese on top, then top the left side with a pinch each of crab, carrots, avocado, and cucumbers.
Starting from the left side, tightly roll each zucchini slice. Sprinkle with sesame seeds before serving.
Comments